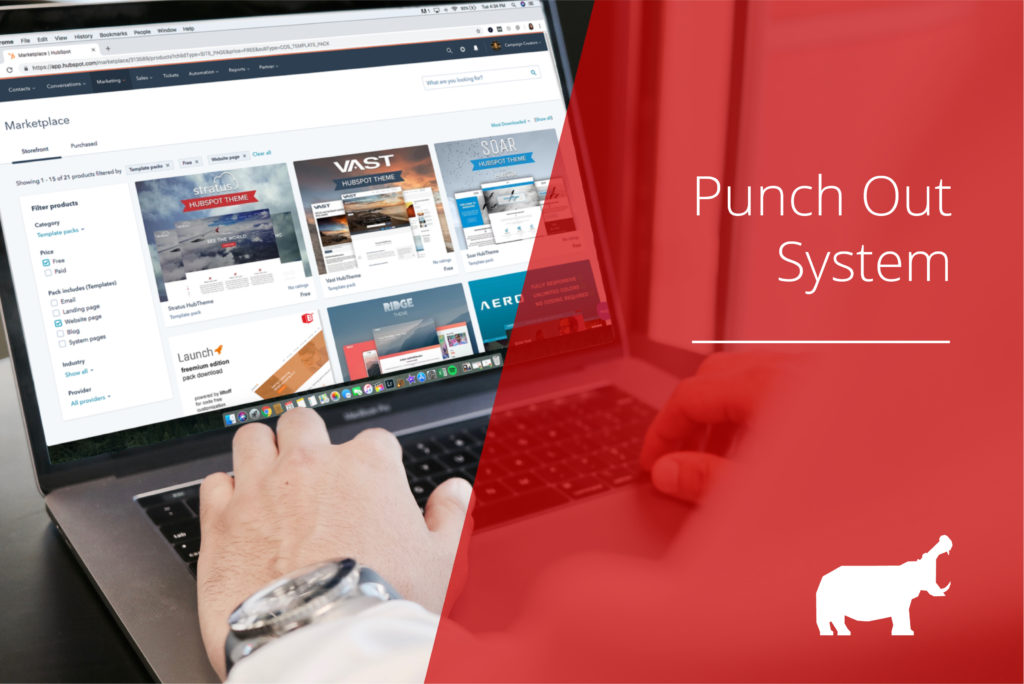 What is it ? 
Punch Out is an intercommunication system between a company's computer applications and its suppliers.
It refers to the connection between the purchasing department and their suppliers' web solutions. For example, this allows companies to directly access the site of their suppliers, where their negotiated contractual conditions apply (price, shipping costs, etc.), and to transfer purchase requests in their own validation environment (SRM or ERP).

Punch Out, the link between your OroCommerce and an ERP / SRM
With this system, your customers' purchasing departments have access to your entire product catalog, with prices at their negotiated conditions. Buyers fill their shopping list as they would usually do on a regular webshop.
Once validated on your webshop, the shopping list is automatically transferred to your customer's ERP or SRM, where all the management and accounting validation processes are already settled. All information relating to the articles is kept (description, unit price, dimension, etc.). On his side, the buyer can submit his shopping list to his management before validation. Once the list is validated, the order is automatically transferred by EDI to the merchant's ERP.
OroCommerce remains the ideal B2B e-commerce solution, due to its many characteristics specific to business to business markets and its flexibility. The Punch Out system can easily be integrated and added to your OroCommerce eco-system. The communication between your e-commerce platform and the SRM / ERP of your customers will be fluid and secure.
Thus, your product catalog is part of a dynamic catalog, available to your customers. Regularly updated in real time on OroCommerce, this system improves efficiency and saves the precious time of purchasing departments and sales teams.
A versatile system, a key resource
Is the Punch Out system suitable for my clients' ERP / SRMs? There are many management software packages, however Punch Out has the advantage of being compatible with a large number of solutions. Indeed, the system is compatible and operational with SRM and ERP of the OCI and CXML type, thus covering the vast majority of management solutions used by your customers.
In addition, thanks to the flexibility offered by OroCommerce, it is possible to configure several Punch Outs on the same webshop. For example, we can imagine a webshop exclusively intended for your B2B sales, in which you will have the possibility to hide certain products from certain customers and to apply a specific and different pricing for their sales teams.
Punch Out, the Kiboko experience
Recently, Kiboko had the opportunity to implement a Punch Out system for one of its clients. The client company had a large number of subsidiaries. Each of them had their own ERP. A problem common to many large international groups, the global management system is not unified. Here, in the event that the customer does not want the development of workflow, the implementation of Punch Out made it possible to very quickly connect the ERPs of the subsidiaries of the parent company, without specific development.
As part of customer demand, we have worked on ERPs such as Oracle PeopleSoft and SAP SRM. Note that it is also very easy to work with other types of SRM and ERP, the Punch Out can be easily adapted with a large number of identical solutions.
With this experience, Kiboko is able to ensure the integration of a punch out quickly and efficiently. This system will provide you with a number of advantages for buyer and seller.
Learn more
Are you interested in Punch Out? Have a few questions? We are fully attentive to your requests and your issues, do not hesitate to contact us. We would be happy to discuss your ideas.
Kiboko is able to support you in the digital transformation of your business. We also have the ability to implement software for B2B management of sales, logistics, customer care and business intelligence.